Mob: 07580891044   
Email:

stuartmevans@hotmail.co.uk
Hi, I'm Stuart from SMEdriving
I am 
a
 DSA Approved Driving
Instructor (ADI)
I cover the: 
Morecambe, Heysham, Lancaster areas.
   
My local test centre is Heysham so most of the driving lessons will
be on the test routes in Heysham and Morecambe so you will be
familiar with the roads when you do your test. 
What do you get for your money?
Driving lessons tailored to your specific needs and ability
Friendly, patient and calm instructor
Better than average pass rate
Punctual and flexible lessons
No holding you back, when your ready your ready!!!
Full 60 mins learning to drive
Being an ADI means I have gone through rigorous tests to make sure I am up to the DSA's standards. These are the same tests as all approved driving instructors have to take. Once an instructor passes these tests
they get a green badge: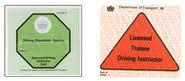 (Lookout for this badge in your instructors car. If they dont have a green ADI badge or a pink trainee licence badge and you are paying for the lessons then they are conducting them illegaly.) I offer quality affordable driving lessons Morecambe, Heysham and Lancaster for new and existing learners, and also to full licence holders who may need to brush up on their driving for a job interview.
Mock Driving Test
Doing driving lessons in Morecambe and Heysham makes it easy to do a mock test on one of the test routes, this makes the mock test as realistic as possible to give you a better chance of passing. I have been a driving instructor since 2010 so I know exactly what makes a minor and a serious fault so I can asses you exactly how an examiner would. When you get close to being ready for your test we will do a few mock tests to see how you are doing, but my mock tests are also available for pupils who have learned with another instructor or friend/family member. Having a mock test at £25 is much cheaper than going in for a test when you are not ready and spending £60+ on another test. So if you think your ready for your test and want a second opinion, or if you think your ready but your instructor doesn't and want an assessment of how far off the test you are then contact me and mention "Mock driving test"


How many driving lessons will it take to pass my test?
This question is asked many many times. The national average is 1.5 times your age so a 20 year old will take 30h on average. My average up to test ready is 22h of driving lessons. But this is an average, the quickest someone has been test ready from total novice with me is 10h. I achieve this by using my custom designed progress chart which groups together various aspects of driving into manageable chunks designed to make the most of our specific location. Once you are test ready I will put you in for your test, no holding you back.
Take a look at this thread for other peoples opinions


New Driving Test
As of 1st December 2017 the driving test will be changing at the Morecambe and Heysham test centre and all other test centres. These changes are to try and make the test more like driving once you have passed the test. The changes include:
One of the show me tell me questions on the move
So make sure you can operate the ancillary controls while driving
Independent driving increased to 20 mins
Following directions from the examiners SATNAV
This is to add a distraction so you can prioritise looking at the satnav and hearing directions as well as driving situations
Reversing out of a parking space
Reversing out to the left or right keeping in mind if there is a one way system in the carpark
Pulling up on the right hand side of the road and reversing 2 car lengths
Done on a quiet road
Turn in the road and reversing round a corner will no longer be tested
I will still be teaching these but wont spend as much time on them closer to the test
Independent or Fleet?
There are many driving instructors out there, some of them are independent ( owning their own business being self employed like me ) and some are driving fleet cars like the AA, BSM, RED ..... Those fleet driving instructors are also self employed and pay a franchise fee around £250+ per week ( the last time i checked) to drive around in their car, so before they make any money at all they need to do 13+ lessons per week. So I can fully concentrate on your learning and don't need to keep you on as long as possible to keep my lesson numbers up. All driving instructors are assessed by the DSA (Driving Standards Agency) so a fleet driving instructor will have gone through the same tests and check tests as an independent driving instructor.
LINKS